FOR IMMEDIATE RELEASE
Brandon Welch will make top fuel debut at the NHRA Winternationals in the Better Diesel Top Fuel Dragster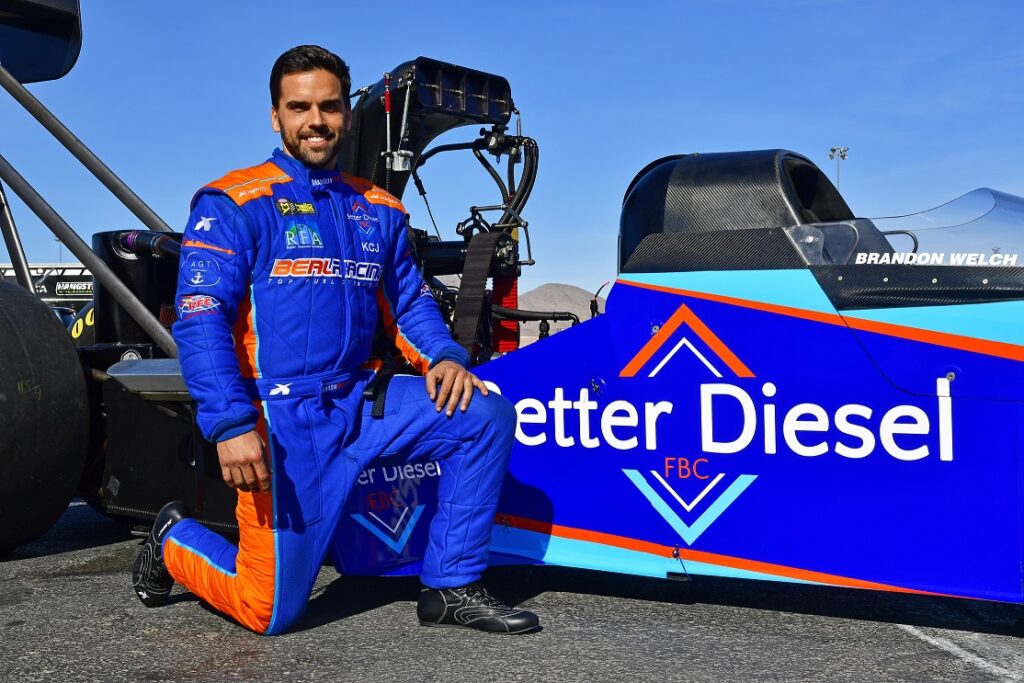 SAN DIEGO, CA, February 5, 2020 – Brandon Welch last staged a race car in NHRA competition at the 2018 Winternationals in the Beal Racing nitro funny car.  Two years later, Welch is back with a new top fuel dragster tuned by veteran crew chief, Scott Graham.   The team, co-owned by Welch and cousin, Tyson Porlas, will field the car with sponsorship from Better Diesel™ FBC at the NHRA Winternationals in Pomona, CA February 7-9, 2020.
During a successful weekend in testing at Las Vegas Motor Speedway, Welch made the necessary runs to cross over his license from funny car to top fuel.  With license in hand, Welch is ready for his first race in NHRA top fuel competition.
"The Winternationals may be our first race in top fuel, but this is a team with experience that expects to compete," said Welch. "We built a first-class car starting with a Kalitta motorsports chassis, and we brought in veteran tuner Scott Graham to call the shots."
Better Diesel™ FBC, a proprietary fuel borne catalyst formula that improves fuel efficiency in all diesel engines, will join the team as primary sponsor. Consistent use of the fuel borne catalyst additive means fewer DPF regens and more miles of trouble-free driving. It is field proven to drastically reduce engine maintenance expense. Many customers also experience the better fuel mileage and increased horsepower that has been independently verified using certified EPA testing protocols.
Better Diesel™ FBC was co-founded by Chuck Beal's nephew, Britt Beal, Sr. making the sponsorship a family affair. "The Beal family has deep drag racing roots," said Britt Beal. "I jumped at the chance to support Brandon and Tyson in continuing the family racing legacy with their top fuel dragster.  I'm excited to introduce our product to NHRA fans, many of whom own diesel pickups or drive transport trucks over the road for a living."
NHRA fans can receive 10% off their first order by visiting https://betterdiesel.com/ and entering promo code NITRO10 at checkout.
See Brandon Welch and the Better Diesel Top Fuel Dragster compete at the NHRA Winternationals in Pomona, CA and broadcast on FS1 February 7-9, 2020.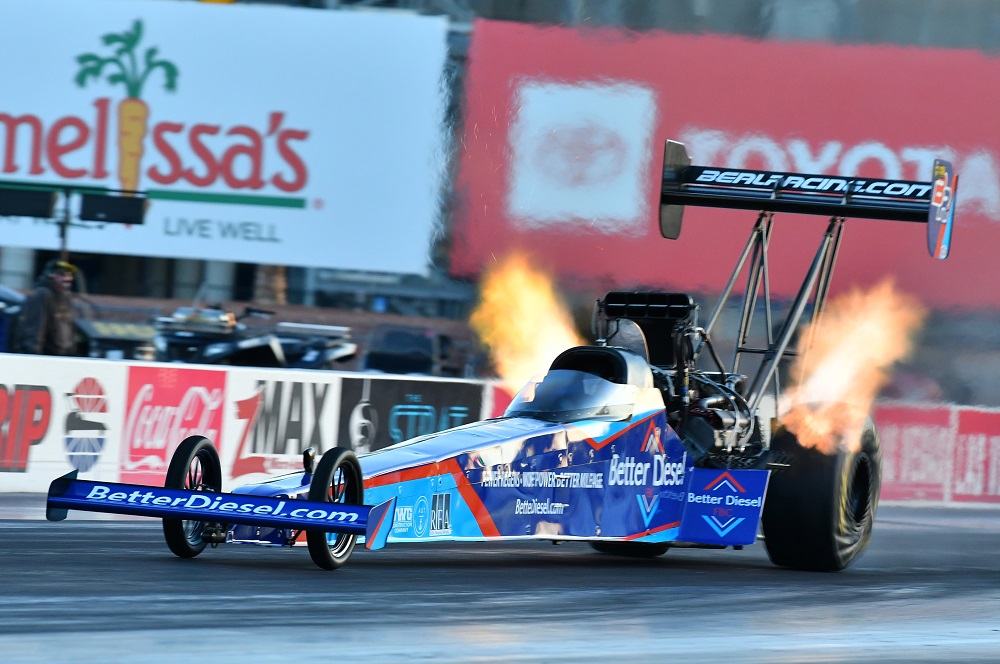 About Beal Racing
The Beal Racing Top Fuel Dragster competes in the NHRA Mello Yello Series with driver, Brandon Welch. The team, founded by the late drag racing veteran, Chuck Beal, continues under the ownership of Beal's grandsons, Brandon Welch and Tyson Porlas. The team's sponsors include Better Diesel FBC, Reilly Financial Advisors, CP-Carrillo, and Darton Sleeves.  To learn more about Beal Racing, visit www.bealracing.com or on Facebook at www.facebook.com/bealracing.
About Better Diesel™ FBC
Better Diesel™ FBC (Fuel Borne Catalyst) is a proprietary fuel additive that directly improves combustion and diesel engine efficiency.  The FBC ingredient enhances fuel combustion to lower soot emissions by 60% to minimize DPF regens, unexpected breakdowns, premature engine wear, and exhaust system maintenance.  Diesel truck engines treated with Better Diesel™ FBC may see increased power and fuel economy, along with smoother, quieter engine operation.  Learn more at https://betterdiesel.com/ and use promo code NITRO10 for 10% off your order.