Beal Racing Top Fuel Dragster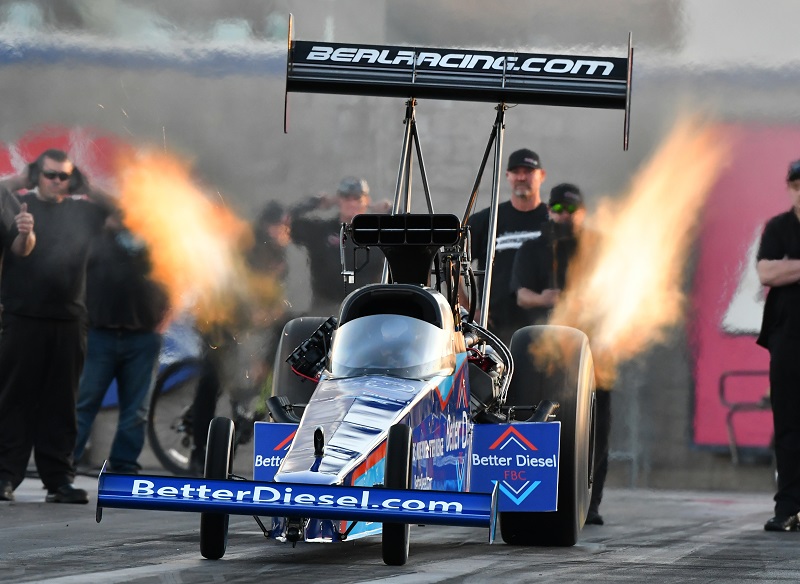 A Powerful Opportunity
Top Fuel Dragster is NHRA's premier class. A Top Fuel Dragster's 11,000 horsepower nitro engine and radical aerodynamics enable the car to explode off the starting line, accelerating to over 330 mph in as little as 3.6 seconds.
In 2019, Beal Racing will leave the Funny Car class and move to Top Fuel.
Our Approach
Bespoke. Tailor-made. Custom.
Whatever you call it, we've thrown out the "Gold Package" and the "Presidents Circle" to get to what really matters – return on your objectives. Your customers are watching us, and they want you involved!
Our process begins with a conversation about your business. We'll dive deep into your challenges and goals. Once we understand you, we will present ways to activate your involvement with Beal Racing for maximum impact.
The NHRA Opportunity
There has never been a better time for the business of NHRA Drag Racing. The sport offers the best event experience in motorsports, as well as compelling television and digital media opportunities to forge deep connections between sponsors, teams, and fans.
Television
Landmark deal with Fox Sports beginning in 2016
17 LIVE broadcasts on FOX and FS1
Four races broadcast on FOX network in coveted Sunday afternoon time slots
24 race weekends, 550+ hours of programming
Record-setting 1.0 rating (1.6M viewers) in 2017, outpacing Formula 1 and IndyCar
24% viewership increase Sunday to Sunday in 2016, additional 5% increase in 2017
72% total viewership increase in 2016, additional 10% increase in 2017
Digital 
NHRA continues to invest in digital media coverage in events, at race team shops, and in the new Wally Parks NHRA Studio.
Over 200 hours of original content
Over 98 million total video viewers
1.25 million Facebook likes
645,000+ Twitter followers
350,000+ Instagram followers
In-event
An NHRA event is a chest-pounding, visually stunning, death-defying immersive experience.
The NHRA Mello Yello Drag Racing Series has the best national footprint in motorsports, reaching 34 of the top 50 DMAs.
A coast-to-coast, 24 race schedule that reaches all four corners of the U.S. from February to November.
Every NHRA ticket is a pit pass, giving fans unmatched access to meet drivers, interact with teams, and engage with sponsors.
Each three-day event offers deep fan engagement opportunities.  NHRA races often draw 30,000 fans per day, with fans spending up to eight hours per day at the track.
Pit-Side Hospitality
Pit-side hospitality creates unique B2B relationship-building opportunities with your high-value customers and employees.
NHRA is Action → Access → Engagement 
No sport offers faster, more explosive action, more intimate access to teams and sponsors, and the ability to engage in-event, in-store, and online with unforgettable brand experiences.
---
The Beal Racing Opportunity
Brandon Welch is the ultimate brand ambassador
Authentic
A driver with a strong family racing pedigree and 15 years as a nitro crew mechanic. Appeals to young and old, first-time and long-time fans.
Engaging
A vibrant personality and quick fan-favorite.
Camera-Ready
An extensively trained and experienced public speaker. Brandon brings experience speaking at hundreds of events with crowds from 10 to 500, as well as television, radio, online, and print interviews.
Media-Savvy
Experienced in public relations, with strong media relationships. Brandon has a track record of winning coverage and delivering the compelling sound bite.
Sponsor-Focused
Brandon earned his MBA in marketing, and has experience working in sports sponsorship, digital advertising, and full-service marketing agencies. He has complete command of marketing, sales, and sponsorships.
Praise for Brandon Welch
"With growing TV viewership fueling record race attendance and online engagement, there's never been a better time to partner with NHRA.  Brandon Welch is exactly what a sponsor should look for in an NHRA star.  He's an experienced marketer that understands what sponsors need, he's camera-ready, and the fans love his authenticity."
-Brad Gerber
NHRA Vice President of Sales and Chief Development Officer
"Sponsoring a race team/driver is easy, realizing value from said sponsorship takes partnership and effort and on that front, you know how to deliver. From Facebook live, press coverage, personal appearances, special events, etc., you showed us what was possible with proper activation."
-Robbie Smith
VP Marketing & Merchandising, AutoAnything
"As a past president of the National Speakers Association, a Hall of Fame keynote speaker and executive speech coach, for almost 40 years I have listened to thousands of speakers. Over the last ten years, I have watched Brandon develop into a magnificent, charismatic, and very likable speaker. He has the ability to connect to audiences of all ages and makeup."
-Patricia Fripp, CSP, CPAE
Past President, National Speakers Association
"Not only does Brandon Welch have an amazingly sound understanding of marketing, sponsorship, media, and branding, he also has a magnetic personality. Brandon Welch is the total package."
-Susan Wade
Veteran Motorsports Writer
Brandon Welch is the next NHRA star
---
A New Era for Beal Racing
New Ownership
Following the 2017 passing of their grandfather, team founder Chuck Beal, cousins Brandon Welch and Tyson Porlas took over the family racing operation. The ambitious duo, raised together at race tracks across America, brings a grassroots attitude, a youthful passion for racing, and Southern California style to NHRA drag racing.
New Class
In 2019, Beal Racing will switch to Top Fuel to chase a new championship opportunity.
New Crew Chief
The team engaged veteran crew chief Scott Graham, an experienced tuner known for fielding competitive race cars, to lead the team into Top Fuel.
Join Beal Racing as we make our Top Fuel debut. 
Call: (619) 335-8692